Blog
/
2014 China Rainbow Media Awards: The Winners
2014 China Rainbow Media Awards Ceremony Takes Place in Guangzhou
Press Release – China Rainbow Media Awards Committee (www.chinarainbowawards.cn)
Media Liaison: lizishu92@gmail.com
Video News Item: http://www.queercomrades.com/en/news/china/2014年中国彩虹媒体奖/
On 13 December 2014, the fourth annual China Rainbow Media Awards Ceremony was held in Guangzhou. Organized by the Beijing Gender Health Education Institute and eleven other Chinese organizations, the China Rainbow Media Awards are the first ever Chinese media awards with a focus on LGBT (lesbian, gay, bisexual, and trans*) issues. The China Rainbow Media Awards seek to direct media in a way that is diverse and positively representational of LGBT issues, aiming to create a more accepting social environment in China.
More than 100 representatives of media institutions and LGBT community representatives joined together at the Donlord International Hotel in Guangzhou to celebrate the Fourth China Rainbow Media Awards. Xiaogang Wei, director of the Beijing Gender Health Education Institute, spoke on behalf of the organizers, and Cheng Qingsong, famous director, playwright and film critic, spoke on behalf of the judges' panel. The event was reported live both on the China Rainbow Media Awards and the Danlan Welfare Weibo account.
Xu Gehui Honored with Special Contribution Award
Xu Gehui received the 2014 China Rainbow Media Special Contribution Award. She started paying attention to LGBT issues more than a decade ago, and hosted several TV programs featuring "out" LGBT activists, LGBT experts, and mothers of LGBT people. Throughout her efforts, she brought the living realities of LGBT people to the attention of the Chinese public and created more social understanding and acceptance towards LGBT communities. Though Xu Gehui could not attend the Awards Ceremony in person, she recorded an acceptance video which was played at the Ceremony. In the video, she reiterated her commitment to promoting LGBT acceptance, and said: "We really hope to see the rainbow in the sky, and hope that everybody realizes that the universe is just as diverse and colourful as the rainbow."
Public Figures Offer Powerful Support
At the Ceremony, a video featuring several Chinese celebrities expressing their support for the China Rainbow Media Awards was played, which elicited many astonished gasps from audience members. Expert academics like Li Yinhe and Fang Gang showed their support for LGBT communities, and also famous artists like Tan Weiwei and Ji Jie called for a halt to discrimination, thus showing their support for equality and acceptance in Chinese society.
A Renowned Panel of Judges
The 2014 China Rainbow Media Awards boasted a panel of renowned judges, all established experts pertaining to a wide variety of academic, media, civil society and cultural fields. They included Chinese judges Lv Pin, Cui Zi'en, Zhang Zhi'An, Cheng Qingsong, Nan Xianghong and Wu Weihua, and international judge Steven Jiang.
This year's awards noticed more than 200,000 mentions of LGBT, in posts and articles dealing with a varied number of issues including law & politics, culture, entertainment, social life and science. It scoured hundreds of newspapers, magazines, television stations, and online media outlets for reports published between November 2013 and October 2014.
Major Awards
The following works were honored:
* Southern Daily: ""Out of the Closet" Mom" – Best Magazine/Newspaper Report
* Blog Weekly: "75-year-old Male Homosexual: Waiting Until It's Not a Big Deal Anymore" – Best Online Report
* Youku (Jingguan): "Danlan Comrade Geng Le" – Best Video Report
* Global Times: "My darling child, I'm gay" – Best English Report
* Information Times: "Homosexuality a Disease? Textbooks Get It Wrong" – People's Choice Award
A Swift Increase in LGBT Reports, More LGBT in Cultural and Social Reports
At the Ceremony, the 2014 China Rainbow Media Awards Media Monitoring Report was announced. The report saw a stiff increase of LGBT-related articles in China, and examined a total of 592 LGBT-related reports. 90 % of the LGBT news reports dealt with cultural and/or social issues.
The media monitoring numbers show that LGBT culture is gradually emerging from the shadows, and is becoming more known to the general public. Moreover, they signal that calls for LGBT equality and acceptance are increasingly being reported on by the mass media. This evolution is probably related to the strong voice emitted by the global LGBT equality movement in 2014, yet also engenders a hope that social awareness in China is steadily progressing.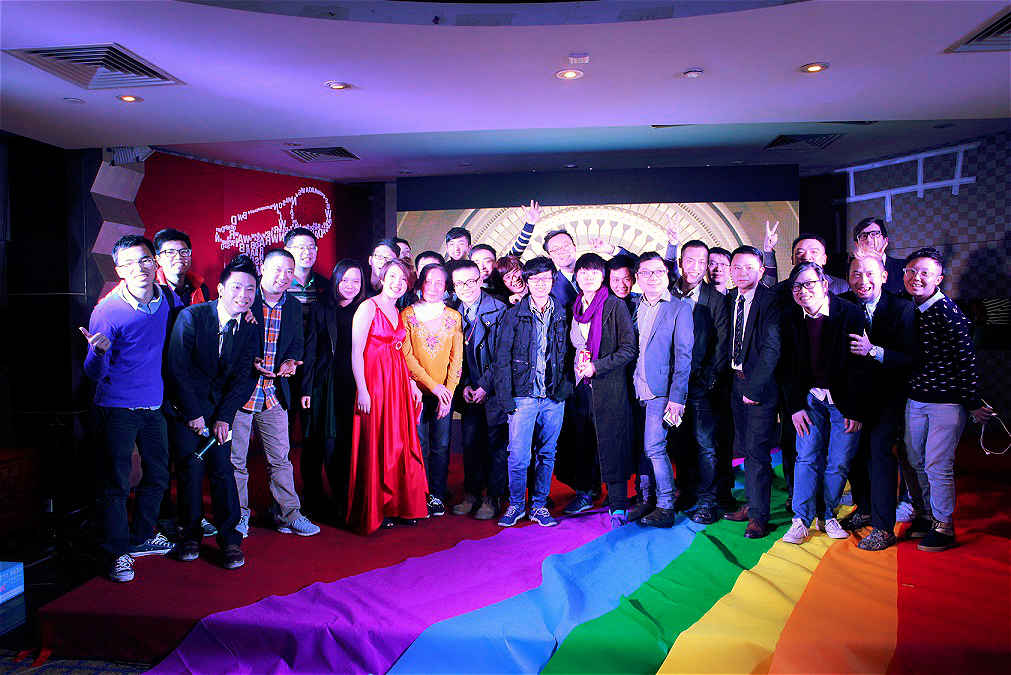 The 2014 China Rainbow Media Awards signal that sexual minorities are finding proper ways to cooperate with the media. Sexual and gender minorities are changing from passive individuals waiting to be reported on, to active entities seeking out the media to let their voices be heard. They are positively searching to create a relationship with the media which is based on equality, and are looking to change LGBT clichés still adopted by a part of the media. Through a balanced selection process, in-depth workshops and a grand ceremony, the China Rainbow Media Awards are constantly striving to increase communication between LGBT and the media, and increase mutual understanding.
The China Rainbow Media Awards continuously promote the efforts of sexual minorities to increase appropriate visibility in the media, and record the efforts of the media to report on sexual minorities in more objective, just and professional ways. It is a process of high significance, both for the LGBT community and the media in China.
Attachment: Media Monitoring Report November 2013 – October 2014
Additional Information:
View Count : 3,276