Events
/
Premiere "Comrade Yue" + "Different Path, Same Way" + "I'm Here"
Our new Queer Comrades documentary "Comrade Yue" will see its premiere on Saturday 22 June. In the documentary, gay coal miner turned filmmaker Yue Jianbo sketches an intimate and artistic portrait of himself and his life within the coal town community. You can watch a trailer here.  The screening will be followed by a Q&A with Yue Jianbo.
The Premiere Screening will form part of a film program shown by Tsingying Film.  It will be accompanied by screenings of the Hong Kong documentary "Different Path, Same Way", recounting the experiences of a Hong Kong gay couple traveling to Canada to get married, and the Macau documentary "I'm Here", which raises questions about coming out and its aftermath.  Both directors will be present at the screening, engaging the audience in a Q&A.
All documentaries are shown with Chinese and English subtitles, while the Q&A will take place in Chinese only.
Time: Saturday 22 June, 14 – 17pm
Place: Tsinying Film, Multifunctional Hall on Ground floor, Humanities and Social Sciences Library of Tsinghua University, Chengfu Rd, Haidian District
Entry: Free

Comrade Yue
China, 2013, Documentary, 30min., Chinese & English Subtitles
Director: Yue Jianbo, Production Organizations: Queer Comrades, Queer University, China Queer Independent Films
In "Comrade Yue", filmmaker Yue Jianbo sketches an intimate and artistic portrait of himself. Born in 1980 in a small mountain village in China's Shanxi Province, he's one of many village boys who race through school, marry a woman and become a miner in the nearby coal town.  Yet his hobbies – running marathons and playing rock music – slowly lead him to explore a different path.  He looks deep inside himself and starts questioning his own sexual identity and the social mores ruling his small town.  After 6 years of marriage, he decides to come out as a gay person to his wife, divorces her and sets out on an emotional journey to redefine his place within the coal town community.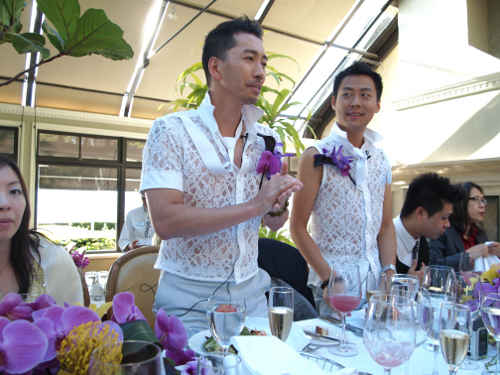 Different Path, Same Way
Hong Kong, 2012, Documentary, 45min., Chinese & English Subtitles
Director: Chi-man Yung, Producer: Henry Lam, Production Company: Primaco Productions
Can two people form a family solely for the sake of love? Guy and Henry, a couple deeply in love, had willingly travelled all the way from Hong Kong to Vancouver, Canada in order to get married, when such marriage is not even recognized legally in their hometown. Why did they made such a big effort to do this? What is the true meaning of marriage?Under the mentality of Chinese families in a post-colonial society like Hong Kong and through their marriage, how did the couple realize their family members' hope regarding their union? As the couple got married in a relatively open society like Canada, how are the newlyweds influenced by the western society's mentality and its marriage regulations?
I'm Here
Macau, 2012, Documentary, 43min., Chinese & English Subtitles
Director: Choi Ian Sin, Producer: Kenji Wong, Production Company: Macau Culture Centre
Some people may think that coming out of the closet is the main obstacle for the homosexuals but the true is there are different circumstances that come up in daily life that bothered the most, especially for those who living in a small town. Due of the lacking of information about the homosexual, they might interpret themselves as heterogeneity and it only made a different after explored to the big big world.
Additional Information:
View Count : 5,262