Events
/
Lead with Love + Mama Rainbow——Screening and Discussion
When:  9th   JUNE,Tuesday   19:00-20:30
Where:  Beijing American Center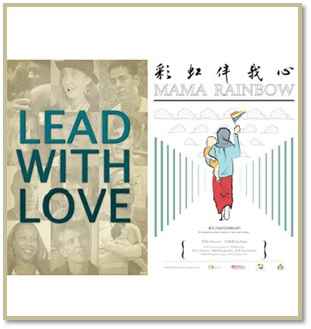 This program will be in English; Lead with Love is in English, Mama Rainbow is in Chinese.
For many people, coming out as Lesbian, Gay, Bisexual or Transgender (LGBT) can be a difficult and emotional process. Societal pressures and expectations make it difficult for many people to come out of the closet. For teenagers and young adults, coming out to their parents is one of the hardest parts of coming out. After coming out however, many people feel a huge sense of relief and a sense that a great burden has been lifted off their shoulders: they are now free to be themselves. For many parents however, it is not easy to accept or understand that their child is LGBT. In celebration of June Pride month, the Beijing American Center is proud to present two films that talk about the coming out process and its impact on families: Lead with Love and Mama Rainbow.
Released in 2010, Lead with Love is a film produced by a research team from the University of Utah reaches out to parents of LGBT teenagers who may struggle with their child's sexual orientation. In addition to interviewing parents with LGBT children, the film also provides a clear way to help families provide support and acceptance to their LGBT children: LEAD: Let your affection show; Express pain away from your child; Avoid rejecting behaviors; and Do good before you feel good.
In Mama Rainbow, filmmaker Fan Popo follows the lives of six mothers who live all across China, hearing them talk about their experiences coming to terms with having LGBT children. Although many LGBT Chinese people are unwilling to come out to their parents, Mama Rainbow shows that there are Chinese families that support their LGBT children, and are giving a whole new definition to Chinese-style family bonds.
For more details about Lead with Love, please go to http://www.leadwithlovefilm.com/.
For more details about Mama Rainbow, please go to https://www.facebook.com/mamarainbowchina or http://www.queercomrades.com/en/blog/mama-rainbow-china/
There will be a short Q&A in English and Chinese after the movie.
NOTE: This event is open to the general public. Audio & visual recording devices will not be permitted during this event. Press inquiries should be directed to the U.S. Embassy Press Office.
You must bring a valid photo ID in order to get into our Center. No large bags will be allowed into the Beijing American Center for this event.
For Security reasons, the BAC staff reserves the right to refuse entry to anyone.
Location: Jing Guang Center, Suite 2801, Hu Jia Lou, Chaoyang District.
Directions: Metro Line 10 or 6, Hu Jia Lou Exit D, walk south one block to the JingGuang Center
Additional Information:
View Count : 3,010