Events
/
Active Against AIDS – China AIDS Walk 3+ Salon
How can you help in the fight against HIV/AIDS?  How can citizens raise funds to make this society a better place to live in?  This Salon will give you some fresh perspectives on how you can raise funds for public welfare projects benefiting the battle against HIV/AIDS!
The China AIDS Walk is the first large-scale initiative in Mainland China to invite citizens to take active part in fighting HIV/AIDS.  In this salon, we invite 2 of the China AIDS Walk coordinators, Wei Xiaogang and Wei Tingting, to talk about how their participation in the US-based project Aids Life Cycle inspired them to start a similar event in China.
After showing the documentary "On the Road", which features a captivating and inspiring account of the 2010 Aids Life Cycle, they will talk about the China AIDS Walk and how it's changing civil society in China.
Time:   Saturday 4 August 2012, 19.00pm
Place:  Yi Yuan Gong She, Chaoyang District, Xibahe Nanlu Nr. Jia 1, Xintiandi Dasha B Zuo 2304
Entry:  Everybody is asked to contribute 1 RMB to Yi Yuan Gong She
Directions:      Metro Line 13, Liufang Station, Opposite Left of Exit B.  Buses 104 kuai, 110, 116, 123, 606 to Chengtie Liufang Zhan, at the crossroads of Xibahe Nanlu and Hepingli Beijie (Liufang Beijie).
Tel.:     64462708
Organizer:       China AIDS Walk Organization Committee
Venue Support:       Yi Yuan Gong She
The China AIDS Walk project was launched by the Beijing Gender Health Education Institute. Driven by a collaborative network of different organizations, the China AIDS Walk raises awareness about HIV/AIDS and raises funds for social projects working on HIV/AIDS issues throughout its different project phases, including mobilization, participatory fundraising, training, promotion and walking on the Great Wall.
We believe that social progress is achieved not by a few people doing much, but by many people doing a little. Adopting the "Friends Ask Friends" (FAF) fundraising model, the China AIDS Walk engages the help of every participant to distribute HIV/AIDS related knowledge and promote the ideas behind the China AIDS Walk. The China AIDS Walk hopes to help people living with HIV/AIDS not only by raising funds, but also by eliminating discrimination and by promoting the idea that everyone can contribute to the public well-being.
AIDS/LifeCycle is the world's most successful AIDS fundraiser.  It is a fully supported, 7-day bike ride from San Francisco to Los Angeles to raise money and awareness in the fight against HIV/AIDS.  Participants use 1 year for fundraising – each participant who raises 3000 USD or more is eligible to participate in the bike ride which takes place every year during the first week of June.
In 2012, more than 2,200 bicyclists and 550 volunteer "roadies" completed their seven-day journey toward from San Francisco to Los Angeles as participants in AIDS/LifeCycle. Hailing from nearly every state and 11 countries, they have raised a record $12,600,000 for the HIV/AIDS services of the L.A. Gay & Lesbian Center and San Francisco AIDS Foundation.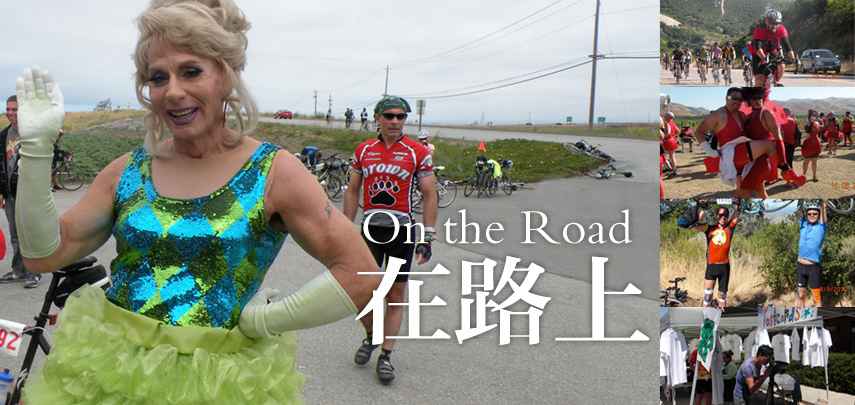 【On the Road】
In the spring of 2010, 2 Chinese LGBT activists set off from Beijing to the glamorous city of Los Angeles, where they were invited to take part in a leadership development program of the LA Gay & Lesbian Center. It was the start of an incredible journey…
They met all the amazing people powering the programs of the Center, they learned how the LA Gay & Lesbian Center grew up to be the world's largest LGBT organization, they encountered stars using their glitz for the good cause and they participated in a truly life-changing bicycle ride to end AIDS: the AIDS Life Cycle.
Their travels are captured in this documentary – watch, enjoy and be inspired!
【China AIDS Walk 3+ Salon】
The 3+ Salon is a project supporting the China AIDS Walk.  The "3" points to Welfare, HIV/AIDS and Fundraising, 3 key concepts of the China AIDS Walk.  The "+" points to everything that can be discussed in the salons, going from sex to sports to business to youth.  The 3+ salons are regularly held.  They aim to inspire more people to participate in the China AIDS Walk, and to provide a platform for all China AIDS Walk participants to help them in their endeavours.
【Yi Yuan Gong She】
Yi Yuan Gong She is an open-minded welfare activity centre.  It offers a place for marginalized communities to organize activities.  It supports all kinds of welfare events.  It's open 7 days a week, and is fully run by volunteers.  You can find out more at http://blog.sina.com.cn/s/blog_872eb6d50100v2eb.html
Additional Information:
View Count : 3,194