Join the China Aids Walk on 20 September 2014!
Are you looking for an engaging outdoor adventure on the Great Wall?
Are you eager to connect with passionate people from all over the world?
Do you want to be an active participant in the fight against HIV/AIDS?
Then come join us on the 2014 China AIDS Walk!
The China AIDS Walk is an epic and fun one-day hiking adventure on the Great Wall. It raises public awareness on HIV/AIDS, aims to eliminate HIV/AIDS-related stigma and discrimination, and benefits people affected by HIV/AIDS and anti-discrimination initiatives all over China.
Take Action, Make a Difference!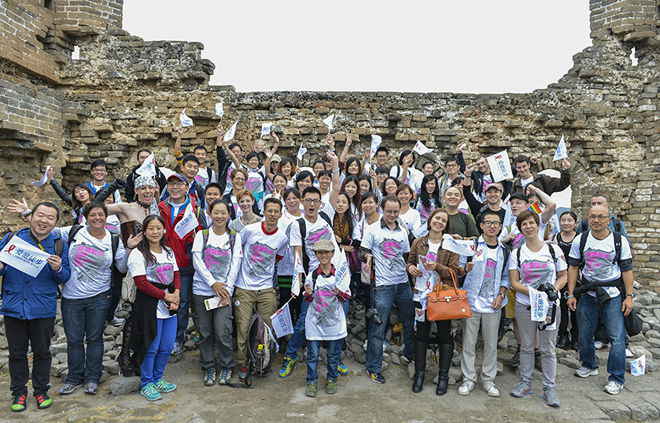 The China AIDS Walk participation fee is 300 RMB, which covers transportation costs (Beijing City – Great Wall – Beijing City), insurance, a China AIDS Walk T-shirt, and general organizational costs.
Our organization is dedicated to giving a complete and public overview of our finances. We guarantee that all of the remaining funds from participants' contributions will be used for follow-up activities to raise public awareness and eliminate discrimination and stigma against HIV/AIDS in China.
The China AIDS Walk is already in its third year. You can find more information on the official webpage: http://www.chinaaidswalk.cn/
Together We Stand Strong!
Join us on the Great Wall on Saturday 20 September!
You can confirm your participation by sending an e-mail to jackie.bghei@gmail.com with your Name, Phone number and E-mail Address.
Or go to the official webpage: http://www.chinaaidswalk.cn/, and click the walker registration button for more info.
Our staff will contact you with further details.
For more information, please call
+86 13011830594.
Tell your friends, classmates, colleagues, and family about the China AIDS Walk. Invite people to join in, tell them why you are participating in the China AIDS Walk, share correct information about HIV/AIDS, and encourage them to support your participation in this epic event!