The award-winning short film "Quiet", directed by Lauren Fash, will be broadcasted in China on 10 July 2014 on the 56 website.  The film is produced by However Productions & Enmaze Productions LLC, and co-produced by Queer Comrades.
"Quiet" is the story of a woman named Ali who is denied the right to make medical decisions for her partner, Sam, after a car accident renders Sam unconscious. Ali must lie and say she is Sam's sister so that she can be with her in the hospital. We see their relationship develop in the past, as Ali's situation unravels in the present.
The film is inspired by a true story.
Look out for the premiere on 10 July on 56, and be prepared for a breathtaking experience.
More Info:
http://www.enmaze.com/film/#/quiet/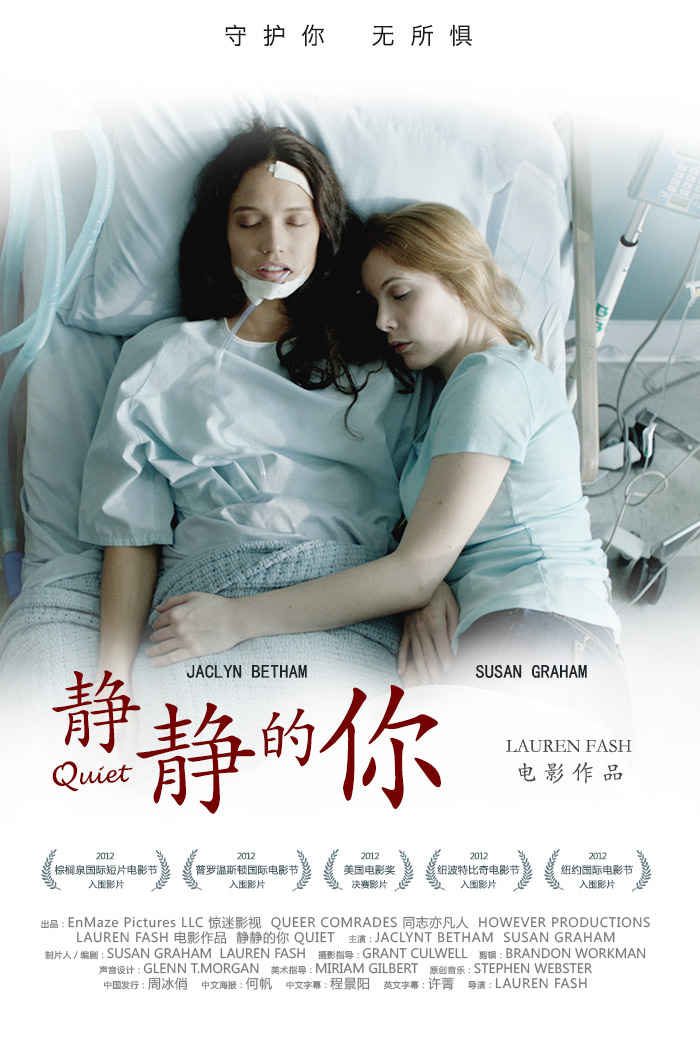 Quiet | 静静的你
31'45" | Drama | English
Director: Lauren Fash
Writer: Lauren Fash, Susan Graham
Synopsis:
Ali must lie and say she is her sister so she can be with her lover Sam in the hospital. Through Ali's memories, we see the women's relationship develop as Ali faces the truth in the present.
Starring:
Susan Graham as Ali
Jaclyn Betham as Sam
Awards and Nominations:
AWARDS
Big Bear Lake Internatioanl Film Festival 2012
Best Short Film, Long Island LGBT Film Festival (2012)
FINALIST
USA Film Festival 2012
HONORABLE MENTION
California International Shorts Film Festival 2012
OFFICIAL SELECTIONS
22nd Annual Toronto LGBT Film Festival 2012
Palm Springs International ShortFest
Festival International Cineffable-Paris 2012
HollyShorts Film Festival 2012
Flickers Rhode Island International Film Festival 2012
New York City International Film Festival 2012
New Orleans Film Festival 2012
Red Rock Film Festival 2012
Mezipatra Prague Film Festival 2012
London Lesbian Film Festival 2012
Provincetown International Film Festival 2012
Newport Beach Film Festival 2012